This flexible program allowed us to quickly jump in and help 890 students impacted by COVID-19!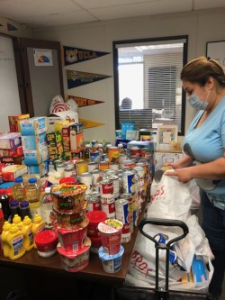 This program was designed to provide our chapter the flexibility to respond to community needs as they arise on a one-time-only basis—for events such as natural disasters or emergencies.   We are currently in an emergency situation impacting our communities due to the Coronavirus!
The Apple Valley School District was doing all they could to help families during this time, by continuing to offer meals for children (pick-up service) at schools; however, they still needed assistance with some other necessities. We agreed to use our budget for this program to help provide families with basic needs during this critical situation—such as canned foods, diapers, detergents, paper goods, etc.  We worked with the Family Resource Centers in purchasing these items for distribution.