Canyon County Branch
of Assistance League of Boise
Transforming Lives • Strengthening Community
Canyon County Branch is the first and only "branch" of National Assistance League and functions under the umbrella of Assistance League of Boise.  It's purpose is to provide philanthropic services to families in Canyon County.  As a branch, it provides the membership and volunteers, manages the programs, and raises all funds for programs within Canyon County.
This is a hard-working group of women, dedicated to the needs in Canyon County.  Though their numbers may currently be small, their determination and purpose is not lacking.
Canyon County Branch philanthropies currently include Operation School Bell® and Baby Bundles.  All programs are funded annually with revenue from grants and donations.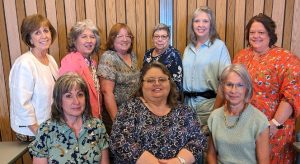 Chair
  Julie Yamamoto
Secretary
  Debbie Geyer
Grants
  Dawn Gipson
  Kelli Jenkins
Operation School Bell®
  Dawn Jensen
Baby Bundles
  Cindy Jordan
  Sharon Seif