History in the Bown House
Step Back in Time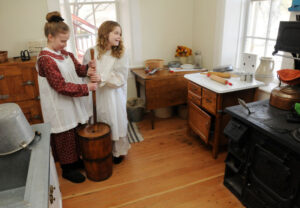 Step back in time and tour this lovingly restored historical treasure that sits on the grounds of Riverside Elementary School.  The two-story house was built along the Oregon Trail in 1879 by Joseph and Temperance Bown with sandstone from Table Rock.  It is one of the oldest stone structures in this area.  Listen to our Assistance League and community docents as they instruct wide-eyed fourth grade students and other visitors about life – and survival – in the late 1800s.
Note: Attendance stats are for April-May 2022. Bown House was closed for tours during the Covid-19 pandemic, and reopened in April 2022.
Making A Difference
The Bown House tour is part of Boise School District's 4th grade curriculum on Idaho history.  Each year, approximately 2500 students enjoy a two-hour tour and participate in hands-on activities reflecting life and times in the late 1800s.  Our costumed volunteers guide the children in experiencing the strictness of the schoolroom, churning butter and making biscuits, dressing up in period clothing, quilting a square, playing pioneer games, choosing which crops to plant and learning about survival on the Oregon Trail.
There are six rooms, each with its own unique activity, which engage children in fun and memorable ways: the kitchen, school room and parlor on the first floor and the farm room, geography room and history newsroom on the second floor. Groups of six to ten students move from room to room and spend about twenty minutes in each room. Students leave with a better appreciation and understanding of how difficult life was for Idaho's early pioneers.
School tours are scheduled on week days from October through May.  The Bown House is open to the public on the first Saturday of each month.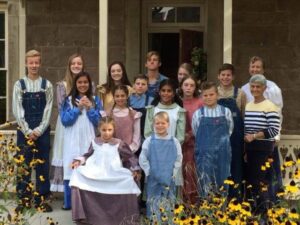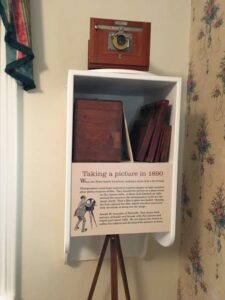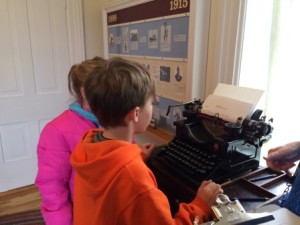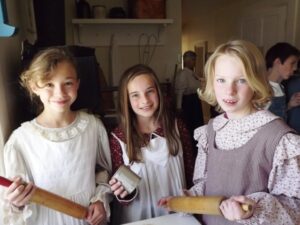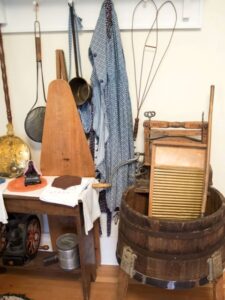 Volunteer as a Docent
We welcome community volunteers to be a part of this special program.  Six docents, one for each room, are needed for every tour.  There are scripts of what to say in each room and period clothing to wear.  You decide how much time you would like to devote each month or during the school year.