HY Hope – Assistance League of Boise's Newest Philanthropy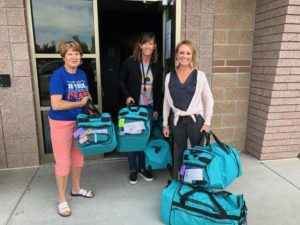 With an increasing number of "homeless" high school students in Ada County, we found a way to support these students who have little or no parental support and who are experiencing various living situations to survive and still attend school.  Our program works through the school districts' social workers who have identified certain enrolled students as homeless unaccompanied youth (HUY), a federal government designation.
Assistance League of Boise HY Hope Committee volunteers purchase items and fill roller duffle bags with personal care, kitchen and other domestic items.  We deliver the "indie" (indicating independent) bags to the social workers at each high school who distribute the bags to the HUY students as needed/requested.  The indie bag allows a HUY student to pack up these items plus their own additional personal items as they move, if necessary, to different living situations (i.e., from a car to a friend's couch).
Contents of the Indie Bag
  Personal Care Items
Bar of soap
Bottle of shampoo/conditioner
Deodorant
Toothbrush and holder
Toothpaste
Lip moisturizer
Package of tissues
Antibacterial wet wipes
Razor
(Girls) Tampons and lotion
  Kitchen Supply Items
Dish pan filled with:
1 set of dishes: dinner and salad plate, bowl and cup
1 place setting of eating utensils
8-inch fry pan
2-quart saucepan
1 large basting spoon
1 larger turner/spatula
Dish washing soap
  Domestic Items
Roller bag filled with:
Fleece throw (gender specific)
Reusable water bottle
Travel pillow with pillowcase
Bath towel
(Girls) Washcloth
Baggy with 5 laundry soap pods and 1 travel size Tide
Baggies: 3 gallon + 3 quart