By Marketing and Communications Committee
Fifty years ago, ladies from the national Assistance League came to a lunch held at the Kahala Hilton to create an official Hawaii chapter of Assistance League. That milestone happened on April 28, 1971. Today, 50 years later, Assistance League of Hawaii is still here, serving our keiki (children) and community with 85-plus members!
Assistance League of Hawaii's 50th year has not gone unrecognized. We were honored to receive a proclamation in observance of our anniversary by City Councilman Calvin Say.
State Representative Della Au Belatti presented Assistance League of Hawaii with a certificate from the Hawaii State House of Representatives to honor our 50th year of operations. The certificate presentation was made at the organization's first, in person meeting held at the Outrigger Canoe Club on May 12 since the start of the COVID-19 pandemic in March of 2020.
As with all Assistance League chapters, Operation School Bell® is our signature program. Operation School Bell provides new school clothing to keiki in schools identified as Title 1 by the Hawaii State Department of Education and school personnel. One boy at a past in-store event was thrilled to receive new shoes in a box. It was an experience he never had before.
Without in-store events this past year, Assistance League of Hawaii resorted to donating over 15,000 school logo T-shirts to students at 34 schools across the Hawaiian Islands.
Our We Care program extends caring and commitment to those in crisis or at risk. Backpack and bus passes go to homeless teens, Malama (care) Bears are provided for hospitals and to the Honolulu Fire Department for those in trauma. Home furnishings are purchased for keiki aging out of foster care and layettes are provided for new mothers at local hospitals.
In 1990, the Tutu Tutorial Program (now named the OSB Literacy Services) began with 17 tutors who helped 90 students enrich their reading skills. Members work one-on-one with children in Oahu Schools. Books are given to the students as well as to school libraries. A school library is staffed totally by members who continue reading to classes of students continuously throughout the school year.
For more information about our chapter please visit our web site Assistance League – Hawaii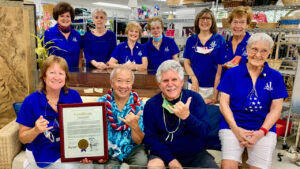 Councilman Calvin Say presented a proclamation to Assistance League of Hawaii on behalf of the City & County of Honolulu in recognition of our 50th anniversary year (above). Top banner photo: State Rep. Della Au Belatti presented Assistance League of Hawaii with a legislative certificate from the State House of Representative in observance of our 50th year milestone. She is shown with our president, Mary Monohon.