Helping Children in Crisis
Many children in Albuquerque live in dangerous or unstable situations or are homeless.  Assistance League of Albuquerque recognizes that agencies who serve them are overwhelmed, without all of the resources they need. We help fill that need.
An Example
Through no fault of their own an eight-month old boy and his three-year-old sister are removed from their home in the middle of the night when their parents are arrested on drug charges. They are taken to a New Mexico Children, Youth and Families Department receiving center. They arrive hungry with no diapers, no clothes, and no toys. They are comforted by CYFD staff who have limited resources. Through our partnership, they now have on hand most of the items they need.
The Partnerships behind KAPS
New Mexico Children, Youth & Families Department (CYFD) – takes in children removed from their homes on an emergency basis. These children are typically held at the receiving centers for several hours or even a day before they can be placed in foster care.
Lutheran Family Services Rocky Mountains – provides services to refugees and families with children seeking asylum as well as children who have traveled to our country alone.
Cuidando Los Niños (CLNKids) – provides homeless children under six an education, as well as housing for the family and life skill classes for the parents.
Casa Q – provides safe living options and services to homeless LGBTQ youth to assist them on their road to self-sufficiency.
Saranam – is a very successful two-year program which aids families as they raise themselves out of homelessness by offering them housing, training, and basic needs.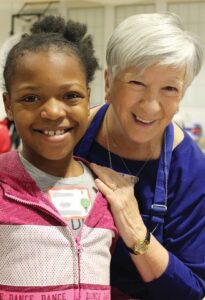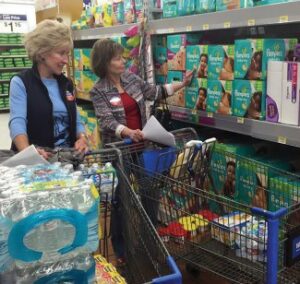 How KAPS Worked before Covid-19 
Assistance League receives shopping lists from each of our partners and plans trips each month to local discount stores, where a rotating group of more than 40 volunteers plan and complete massive shopping trips to pick up all of the items needed. We also order diapers on-line, in bulk quantity, for delivery to partner agencies.
Our volunteers often tour the agencies we work with, so that they understand how they function and exactly what is needed. They also deliver the items we shop for to our partner agencies to ensure the link between our organizations remains strong.
How KAPS Works with COVID 19 Restrictions
We continue providing for the needs of children in crisis situations with both online shopping and local shopping with pick up or delivery services. We have adapted our methods to continue giving services.
Why We Need Your Support
As the refugee crisis grows in our state, more and more people become addicted to opioids, and more children find themselves homeless, the need for support from Assistance League just keeps growing. We get many more requests than we can fill every year from new agencies. We also try to stretch our modest budget as far as possible to serve our current partners. Simply put, with more money we can help more children who are in crisis.
"Many times children come in with only the clothes on their backs. No shoes, hungry and traumatized. Assistance League of Albuquerque® volunteers are compassionate, kind and truly CARE. They provide what every child deserves." – CYFD Staff