Assistance League of
Albuquerque
Celebrates 60 years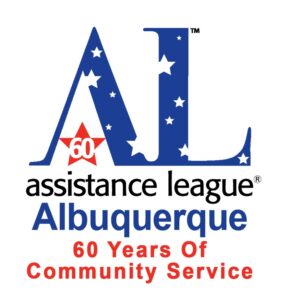 The Assistance League of Albuquerque is happy to celebrate 60 wonderful years of service to New Mexico with the announcement of our 60th Anniversary!
We're honored to have been able to enrich our community all these years through our nine philanthropic programs. These programs have long been a staple of our organization and the community, and we could not fund them without the generous help of every single one of our amazing volunteer members, partners, and customers.
We are excited to celebrate everyone who has helped keep our programs active and relevant by hosting a series of events over the next 12 months.  Each month we will bring to light a philanthropic program and host a cooperative community activity, highlighting all the values the Assistance League of Albuquerque embraces.
We are thrilled to be celebrating this milestone with New Mexico and look forward to sharing many more years of service and enrichment with our community!
Natalia is big fan of the Assistance League of Albuquerque.
Hear what she has to say . .
David's hobby is Thrift shops and he appreciates the variety and quality of the items at the ALA Thrift Store finding it the "best Thrift Shop on the planet".
Listen to why he thinks that.
Barbara appreciates the work that the Assistance League does for others, especially Operation School Bell which gets new shoes to children in our Title 1 schools.
Listen to her thoughts.
A long time customer, she's shopped at the Thrift Shop since she was a student and still shops there because of the great people, reliable quality of goods, and excellent prices! Even on furniture.
Here's her story!
Beginning April 26, watch for public service announcements for Assistance League ABQ
from our partner KQRE on KRQE News 13, MY 50 TV, CW New Mexico and Fox New Mexico.
60th Anniversary Celebration – Invitation Only
After Hours Celebration from 3 -5pm!
April 26th
We will be showcasing our nine philanthropic programs to our
donors, partners, and dignitaries.