Our History
Assistance League of Albuquerque began as the Service League of Albuquerque in 1959 with 23 members. By 1960, membership had grown to 60 women who taught classes, cooked, and chaperoned Saturday night dances. The organization had a permanent location for Hospitality House, its major program, and Bargain Box, its ongoing fundraising activity.
In 1962, the organization was chartered as 28th chapter of National Assistance League.
Over the years Assistance League of Albuquerque has offered many diverse programs in response to the needs of the community. In 1973, the organization combined all its programs into its own building on Chama NE.
At the request of the City of Albuquerque in 1978, Assistance League of Albuquerque created The Blue Portal to provide a venue for senior crafters and artists to sell their work. Housed in a fully owned building in Albuquerque Old Town, The Blue Portal has served over 5,000 crafters and has returned over $1,500,000 to them.
Because all sales people are Assistance League member volunteers, The Blue Portal charges no commission and returns the full price of each sale to the individual crafter or artist.
Assistance League of Albuquerque began Operation School Bell® in 1999 to provide appropriate school clothing for elementary and middle school students at Title 1 schools in Albuquerque. Since then, we have provided clothing for almost 30,000 Albuquerque students using funds from purchases at the thrift shop and from other fundraising activities.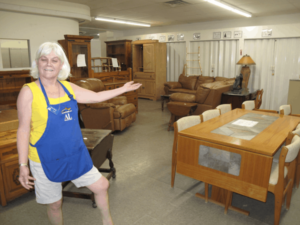 In 2003, the chapter purchased a larger building to accommodate the growing needs for space, especially for the growing thrift shop. This building has enough room for the thrift shop, a business office, a meeting area, a library/boardroom, and the Operation School Bell Distribution Center.
Assistance League of Albuquerque is now at home at 5211 Lomas NE.
Recent milestones include achieving Guidestars Highest Nonprofit designation – Platinum Status. Many assessments of current and needed spaces is ongoing. The Furniture Store square footage was added in 2015-16. Current review has us contemplating taking over the space vacated by the comic store – which would give us the entire block with the exception of Taco Bell. The Shoe Drives as a part of KRQE Cares program has brought us philanthropic satisfaction and much public acclaim. Our current membership stands at 354 which is a substantial increase in recent years. This year finds us with a major Capital Fundraising Campaign for Blue Portal, the Church Street Facility. The years have finally taken their toll on the facility but the renovation is going to leave us with a fabulous facility for our senior artisans.