History
Since Operation School Bell became a National Assistance League® program in 1958, it has provided school clothing for over 3.5 million children across the United States. What began as a one-woman effort to provide clothing to disadvantaged children, so they could attend school, has had a profound effect on children throughout the country.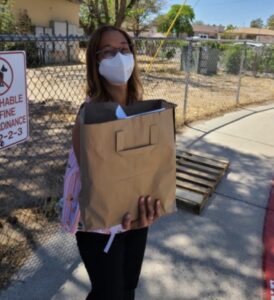 The Assistance League® of Albuquerque, through Operation School Bell, provides clothes, shoes, hygiene products, and, more recently, non-perishable food for disadvantaged children in our Title 1 schools.
With the onset of Covid 19, we adapted to the new needs and the changing environment. FOOD became one of the schools most sought after items. Urged by our National Assistance League®, we began a partnership with RightGift*, which sells (at a bulk price for nonprofits) what we request and ships it where it needs to go. Perfect!
We help Albuquerque school children and their families in many ways.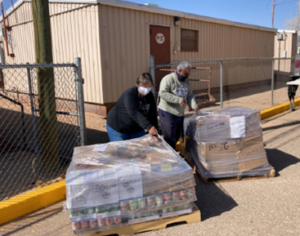 Food distribution: We coordinated several food distributions with our schools over the last year. We surveyed the schools, processed their requests, and ordered the food from RightGift, which then delivered the food to each school. Each school packaged the individual requests and handed the food to each family. Fact: Over 45,000 pounds of food were purchased and delivered to 58 Title 1 schools (38 elementary, 11 middle, 5 high, and 4 charter schools).
Clothing: We now order clothes from RightGift, which delivers the items directly to the participating Title 1 schools. Each child receives three shirts, two pairs of pants, and underwear and socks when needed.
Shoes: The children receive a shoe voucher for a new pair of athletic pick up their new shoes. A smile on every face! Fact: 14 Title 1 schools participated (9 elementary and 5 middle) in the shoe drives.
Hygiene: We buy hygiene and essential products from Target for school children and their families. Fact: Deliveries were made to 22 Title 1 schools (13 elementary, 4 middle, and 5 high).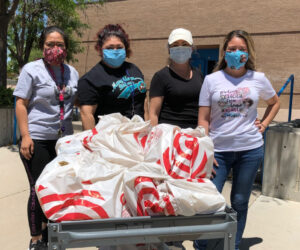 Literacy: Chapter members work with some of our schools to program the whole school reads the same book and develops many associated activities. When the program is completed, the school holds a big celebration in which Assistance League members partici- pate. A truly wonderful experience!
Action Week: This is an annual event in February in which all Assistance League chapters participate. OSB funded our event this year, and we chose to provide food and books for children and their families in an elementary school.