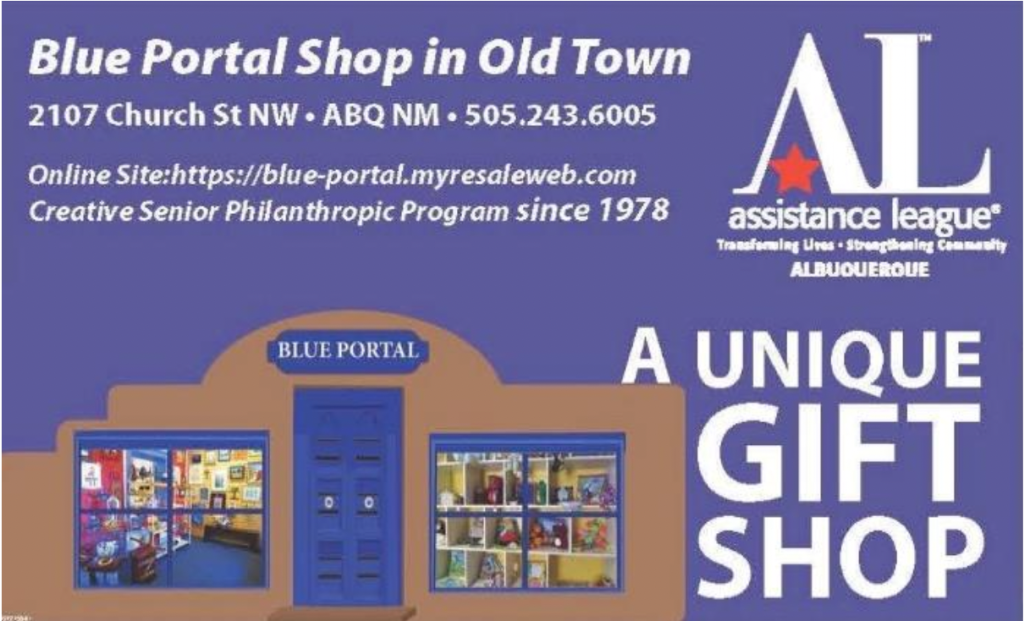 Blue Portal
Why does it Exist?
In 1978, a forward-thinking group of City officials (Harry Kinney) and women from the Assistance League of Albuquerque recognized that the communities senior citizens were being forgotten in a unique way – the recognition that in age one still needs the stimulation of other people, the creative process and to be validated someway in the community in which they live. An opportunity to thrive.
As we have progressed through the years we are continually amazed by the creativity of this group of individuals in ceramics, gourds, fabric items, woodwork, metal, glass, paper, jewelry and sustainable recycling of materials into artistic work. We love the opportunity to showcase this work and share the stories of the artists with our patrons. These pieces are one of a kind and the encouragement you give an artist when you purchase one of their pieces cannot be measured. It confirms their work is of value and this positive message may come at a time that this artist needed encouragement or support the most. Every purchase is confirmation that what the artist is doing is of value and valued by the purchaser.
Every volunteer at Blue Portal embraces what we do and in parallel gives us confirmation that we are providing something life affirming as well as monetarily rewarding. Old Town is the perfect venue for this intimate, personal, Southwestern, and yes even a bit funky venue. Our terrones walls and blue framed windows give light to about 2,000 pieces of amazing work.
Mondays find us taking in new inventory, visiting with the artists, getting it ready to go out for sale on Wednesday. During the Balloon Fiesta we have extended hours and we are totally open every day of Fiesta. Our patrons are now worldwide and it is such fun to see familiar faces find us again. Often when the weather is good, we have artists doing demos "on the portal."
Blue Portal is a success story because every component of it embraces the totality of what the shop, actually a program, is and does. The Assistance League of Albuquerque pays the bills for utilities, supplies, insurance etc. As a nonprofit program, Blue Portal itself does not have income. Artists get 100% of the price charged, there is no tax and everyone working there is an ALA volunteer. At present we have more than 375 senior artists in our creative cadre.
"There is a fountain of youth: it is your mind, your talents, the creativity you bring to your life and the lives of people you love. When you learn to tap this source, you will truly have defeated age." Blue Portal celebrates this concept of life and living. Visit soon.