OUTREACH:  (Top) Assistant League of Hawaii member volunteers Miho Tiepel and Peggy Monell filled this truck full of groceries for students at the University of Hawaii's College of Tropical Agriculture and Human Resources program. Also shown, Jessica Radovich of CTAHR. (Below) Some of the items donated the CTAHR school and two grateful students.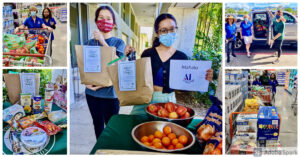 By Peggy Monell
Assistance League of Hawaii member volunteers responded in kind to a request form the University of Hawaii at Manoa's College of Tropical Agriculture and Human Resources (CTAHR) program for assistance in this time of need.
Jessica Radovich who is the Academic and Student Affairs Educational Specialist at CTAHR inquired if we could help with students struggling to stay in school and pay all their bills.
Students were surveyed to see what their biggest concerns were during the COVID-19 pandemic. They are stressed out about being able to get food as CTAHR's funding sources have been depleted.
Jessica asked if we might be able to help purchase non-perishable food items for them.
Assistance League of Hawaii to the rescue! Outreach chair Miho Teipel and I took Jessica to Costco and went food shopping. We were given a budget of $1500.00 and were able to supply 150 students with enough food for one month each. The look of happiness and tears of gratitude on their faces reinforced my love for what we do as the Assistance League of Hawaii.
The students at CTAHR study farming, agriculture, natural resources, and environmental studies. Their mission is to create and deliver knowledge that supports and strengthens families, agricultural and food systems, and the natural environment. CTAHR educates and serves the people of Hawaii and those from around the world with integrity and excellence.
Learn more about CTAHR at their website. https://cms.ctahr.hawaii.edu/