A Legacy of Giving
Celebrating 79 Years of Service to Long Beach
Assistance League of Long Beach Legacy Society
Through your gift to the endowment, you will strengthen Assistance League of Long Beach and enrich the lives of future generations.
Please consider making an estate provision or a planned or deferred gift to benefit the future of Assistance League of Long Beach.  Also, please consider notifying us of your intentions so that we might welcome you to the Legacy Society — our way of acknowledging present and future endowment gifts to Assistance League of Long Beach.
Reasons for Joining Our Legacy Society
Periodically, we are pleased to acknowledge and highlight some of our Legacy Society members.  These people have planned to include Assistance League of Long Beach in their estate plans.  The stories you will read are from the heart and encompass a wide range of reasons and passion for contributing to the long-term support of this great nonprofit organization.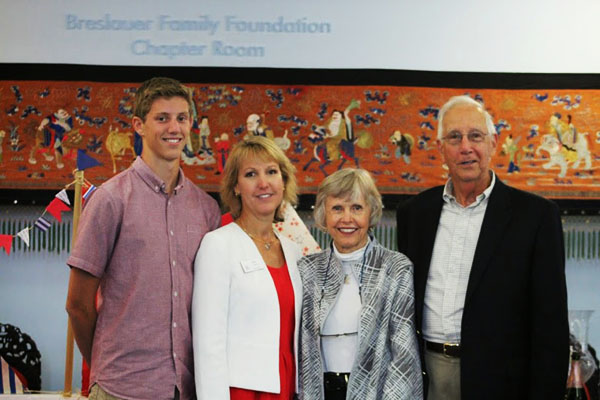 It was in 2008 that Blair Carty's friend, Karen Blair, asked her to join Rick Rackers, an auxiliary of Assistance League of Long Beach.  With well-honed leadership skills, Blair quickly became a real asset to the auxiliary as she took on many roles, Resource and Development and Treasurer, to name a few.  She was the Rick Rackers Chairman in 2015, as well as Interim Chairman for most of 2018.
Raised in La Canada, Blair attended the Westridge School for Girls in Pasadena.  Because the school was small (Blair's graduating class was made up of 40 girls), she had to work hard.  "When there are only 5 or 6 other students in your class, you know you are going to be called on by the teacher, and you have to be prepared," she said.  She admitted that she was shy in school but already strongly independent.  Blair went on to attend University of San Diego and then UCLA to attain her master's degree in education.
Many of Blair's leadership skills were developed in her 18 years of working as a school administrator for LBUSD, first at Poly and then at Long Beach Prep Academy, Millikan, and Lakewood.  When her son Andrew was reaching the middle school years, she decided as a single mom she needed to be more available for him.  High school administrators have so many late afternoon and night duties.  So, in a leap of faith, she took a leave of absence knowing she had to find another job she could do part time.  Ironically, the foundation started by her parents in 2006 needed someone who could better direct it than the company that they had hired.  So, Blair found her part time job—she took over the administration of the Adams Legacy Foundation.
The foundation's mission is to get people out into nature – to help different populations reap the healing benefits of being outdoors, away from electronics and organized time.  However, the foundation was started with the goal of keeping the family together and fostering a commitment to philanthropy in the family's heirs.   Blair puts all her knowledge of educating, money management, and organizational skills into fulfilling both the mission and the overall goal.  The Adams' heirs begin their training at age 13, with a full partnership in the grant making decisions at 14.  As they grow older, they are given greater responsibility.  Over the years, they have all become more cognizant of the importance of philanthropy. For more information, you can check out their website at adamslegacyfoundation.org.
Blair has always been physically active.  She works out with a trainer, runs, does yoga, and plays golf.  Sailing also has always been important to her, and she regularly races on Cal20s, Farr40s, and Catalina37s.  As a member of Long Beach Yacht Club, Blair has once again taken on a leadership role.  She is on the board of directors, currently serving as Port Captain.  In four years, she will be the second female Commodore in the club's 95-year history.  Additionally, she is on the board of the Long Beach Sailing Foundation and runs their STEM Outreach Program.
Blair gives much credit to Assistance League saying, "I have learned so much from being a member.  You are encouraged and supported as you learn new skills.  Trainings are high quality and professional – finance, treasurer, Robert's Rules, and meeting organization are all things I learned or skills I honed by being a member."   She also loves the women of this organization saying, "They are hardworking, smart, professional, and caring.  They get the work done while engaging everyone who is interested, and all the while having fun."
It is easy, therefore, for Blair to be part of the Legacy Society.   She says, "I made a legacy gift to Assistance League of Long Beach, because I believe in the services that we provide to our community.  I have experienced how we collaborate with our community and continue to evolve to meet their needs.  I trust that 20, 30, 40 years from now when I'm gone that Assistance League will still be well run and meeting the needs of our community.  I believe they will honor my legacy by truly assisting those in need in Long Beach, a city I love."
If you are interested in learning more about Assistance League of Long Beach's Endowment Program or Legacy Society membership, please contact Oscar Reyes, Fund Development Manager, or Annette Kashiwabara, Executive Director, at (562) 627-5650.
Planned Giving
Welcome to your resource for Charitable Planned Giving.
We've created this section of our website to help you dream, about our future and yours.
We think you'll find the information helpful and easy to understand, something you'll want to use and share with your family and friends.
For related details, check out the following resources.
Notice of a Legacy Society member's gift intentions may be made using this form or, alternatively, a verbal statement will suffice.
Information about programs that Assistance League of Long Beach and our auxiliaries provide to our community.