A Legacy of Giving
Celebrating 80 Years of Service to Long Beach
Assistance League of Long Beach Legacy Society
Through your gift to the endowment, you will strengthen Assistance League of Long Beach and enrich the lives of future generations.
Please consider making an estate provision or a planned or deferred gift to benefit the future of Assistance League of Long Beach.  Also, please consider notifying us of your intentions so that we might welcome you to the Legacy Society — our way of acknowledging present and future endowment gifts to Assistance League of Long Beach.
Reasons for Joining Our Legacy Society
Periodically, we are pleased to acknowledge and highlight some of our Legacy Society members.  These people have planned to include Assistance League of Long Beach in their estate plans.  The stories you will read are from the heart and encompass a wide range of reasons and passion for contributing to the long-term support of this great nonprofit organization.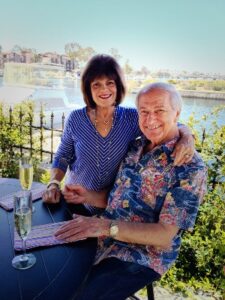 Legacy Society member
Vickie and Jim Sullos
Printable Story (PDF)
by Bonnie Dorrans
"Throughout the years, we have seen firsthand how special Assistance League of Long Beach is in serving the community with outstanding results. It is important to us that future generations continue to receive the same dedicated service and, for that reason, we chose to become Legacy Society members."
Married for 49 years, Vickie and Jim Sullos seem perfectly matched.  Both are first generation Greek Americans. They met at a Greek Orthodox Church in Long Beach where they were introduced by a mutual friend.  They talked for over two hours. Fortunately, Vickie's parents had asked her to drive them to the event that night.  Jim who was just returning from a business trip stopped at the event to say hello to his parents. The rest is history.  After seven dates, Jim asked Vickie to marry him.
Vickie was born in Mt. Pleasant, Michigan, but the family moved to California before her second birthday.  Her father bought land in Santa Ana, because it reminded him of the Greek climate and the plants from his homeland.  Vickie grew up there, graduated from Santa Ana High School, and went on to earn a BA in Business Administration from California State University, Fullerton.  She worked for a few years as an interior designer but, once they had children, she chose to be a stay-at-home mom.
Jim was born and raised in Long Beach and attended Long Beach Unified School District schools. He graduated from Poly High School and went on to Occidental College and then Columbia Business School. He has been a CPA for fifty-five years.  Though he is retired, Jim still works out of the same accounting firm that he has been with his entire career, Windes.
Jim also is the president of Edgar Rice Burroughs, Inc. Burroughs was the first author to incorporate himself. An adventure writer, he is best known for Tarzan of the Apes. The corporation audits over fifty movies and 250 television episodes spawned from the book and monitors merchandising and licensing agreements.
Vickie remembers attending a Woman of the Year event with Kathy Wade in 1984. The next year, Vickie joined the Rick Rackers auxiliary and became immediately busy planning the Winter Wonderland Ball and preparing the 335-page Reporter. "The Reporter honored our Woman of the Year, showcased service organizations, and was a fundraiser with members selling ads," she said. In 1992, Vickie served as the chair of Rick Rackers.
Vickie became very active in the Cancer League for a number of years and served as president. Encouraged by her Assistance League friends to become a Chapter member, she became part of the "007 Bond" class.  A natural leader, Vickie chaired a number of committees.  Her favorites involved social interaction with the member volunteers.  She was 5th Vice President-Membership for two terms, Chair of the Endowment Committee, worked on Membership Enrichment, and served as a "mom" with Kathy Wade.  In 2016-17, Vickie became the President of ALLB.   Because she is such a detailed person, a perfectionist really, her skills were apparent in everything in which she was involved.
Ironically, Jim encountered Assistance League of Long Beach long before he met Vickie.  Because his father owned a parking lot near the first ALLB Thrift Shop, Jim met some of the member volunteers and even handled some of their accounting matters; he was greatly impressed by these ladies and how the organization conducted business.
Jim and Vickie have two grown children.  Their daughter, Gina, is a veterinarian who owns a business in Santa Barbara called Cat Doctors.  Jimmy, their son, lives in Venice and is the co-founder and creative director of PTTOW!, a private community of C-Suite executives from Fortune 500 companies.
Vickie and Jim are proud to be Legacy Society members.  They know Assistance League of Long Beach will continue to make life better for the many people it serves.
If you are interested in learning more about Assistance League of Long Beach's Endowment Program or Legacy Society membership, please contact Oscar Reyes, Fund Development Manager, or Annette Kashiwabara, Executive Director, at (562) 627-5650.
Planned Giving
Welcome to your resource for Charitable Planned Giving.
We've created this section of our website to help you dream, about our future and yours.
We think you'll find the information helpful and easy to understand, something you'll want to use and share with your family and friends.
For related details, check out the following resources.
Notice of a Legacy Society member's gift intentions may be made using this form or, alternatively, a verbal statement will suffice.
Information about programs that Assistance League of Long Beach and our auxiliaries provide to our community.